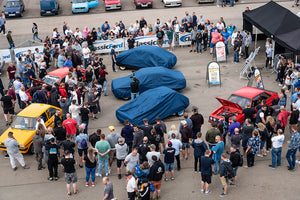 WIN a Hamilton Classic Car Cover with Classic Ford Magazine
Once you've used a good-quality car cover for your classic Ford, you'll never know how you managed without one, and Hamilton Classic — who is the official supplier of car covers for The Great Unveiling at this year's Classic Ford Show — is offering one lucky winner the prize of a soft, breathable indoor car cover for their classic Ford (or alternatively, a voucher to the value of £140 towards any indoor or outdoor car cover in the Hamilton Classic range).
Manufactured from Supertex – a special breathable, 100 per cent rustproof material – and featuring a soft lining, Hamilton Classic's indoor car covers are available in a range of colours and are just the job to protect your classic Ford – with excellent dust protection and a padded feel to protect your Ford's bodywork from knocks and scrapes while in the garage.
See our range of indoor covers here and outdoor covers here. 
Competition now closed. 
---