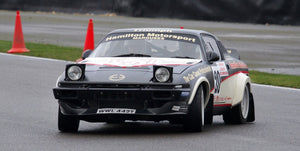 Triumph TR7 V8 braves the chill on the South Downs Stages Rally, Goodwood
Alastair Flack from Hamilton Classic unveiled a new paint scheme for his well-known and very impressive Triumph TR7 V8 rally car for it's first rally outing of 2017.
The Towncross Engineering South Down Stages was run by the Bognor Regis and Southsea Motor Clubs on the famous Goodwood race circuit on February 11
th 2017. Despite the familiar surroundings though, the white tents, period dress and champagne bars felt like a long and distant memory and in fact the whole venue feels like somewhere different entirely.
Instead a hardy crowd clutching thermos flasks and clad in fleeces and thermals braved the near arctic conditions to watch some hugely competitive rallying.
The near zero temperatures and scatterings of snow presented teams with challenging conditions and tyre choices. Most opted for rally slicks for the mainly tarmac surfaces of the South Downs Rally, the stages for which contain a mixture of the cones on the track itself, car parks, pitlane and other adjacent areas to create a high speed and thrilling rally spectacle.
The event run entirely by volunteers, runs to over 10 hours across 10 special stages, the final two of which are held at night. Alastair had prepared his rally car for the nighttime sections with the addition of some very impressive HID fog lamps, powerful enough to melt chocolate at 20 paces! A further addition aside from the new paint scheme for this rally was the fitment of metal arch extensions to replace the increasingly battered and fragile glass fibre items that had the car had worn throughout 2016.
Cars are set off with the fastest first with a broad spectrum of entrants including modern Subaru's, an ex- BTCC Renault Clio, Rover SD1 and even a Ferrari! One stage begins within the enclosure of the pit lane at Goodwood and the sound of resonating rally engines was something else!
Special stage 1 saw the cars pelting out onto the track and through Madgwick corner to face a confusing looking wall of cones through which the cars would slalom and chicane. Other stages see the cars taking to the perimeter road and burst into the timing light in the car park via a series of tight, muddy twists and turns. These stages were then further altered, reversed or modified for each run to keep navigators and drivers alike on their toes.
The final stage saw the Escort RS2500 of Paul King and Alicia Miles take the overall win with the Subaru Impreza of Paul Baile and Loic Ditchburn (great name) taking second.
The cold, snowy conditions created a slippery rally for the Triumph TR7V8 that often looked overpowered in places creating a challenge for Alastair to rein back the beast.
Alastair Flack with navigator Mike Leflay finished the rally 4th in Class D and 13th overall – a significant result given the competition and challenging conditions.
---