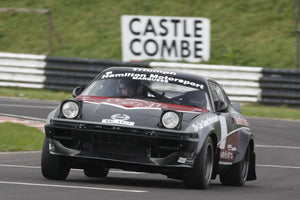 Track testing with the TR Register Car Club at Castle Coombe.
The return of the TR Register tracks days over the past couple of years has been welcomed by steady support and an ever-increasing turn out. The events represent an ideal opportunity to explore the capabilities of your TR in the safest possible surroundings with full support from course Marshall's and fellow TR owners alike.
For Hamilton Motorsport, the trackday offered a great and cost effective day of track testing on the TR7V8 rally car to improve the set up ahead of the Rushmoor Sprint and Lurgan Park events already confirmed for the forthcoming weeks and months.
This year's first outing was at Castle Coombe, near Bath and those attending to test their Triumph to their own personal limits. This year, the weather was a little dramatic! Whilst track conditions were OK for the first part of the day, by the time the afternoon arrived torrential rain hit the track and made the going very slippery. Ride on board with Alastair Flack in the Hamilton Motorsport Triumph TR7V8 where he shows the phenomenal grip that the car now has in the wet, despite the huge amounts of standing water on the Armco inside each hairpin!
Castle Coombe are true professionals at processing batches of cars for track laps, as was the event organiser Kevin Bryant from the TR Register. First disclaimers and tickets for the noise test are distributed, and then the participants were required to pass the noise test, or stop to collect an exhaust baffle from Merlin Motorsport and try again! Following that, all drivers and passengers received their safety briefing and some tips on driving the track before signing on and taking to the tarmac. Sensibly, the marshals lead each group out on their first sighting lap of the day to demonstrate braking points and best lines through the corners for those willing to take note.
The cars were divided into groups A through to D according to experience, speed and car specification. A great move because it meant most the cars on track were travelling at a similar pace and ability but most importantly it allowed everyone bags of track time to really get to know the circuit, build their confidence and have a fantastic time.  It was also great to see so many spectators attending who although were not driving on track, all added to the fabulous atmosphere in the paddock and trackside.
---