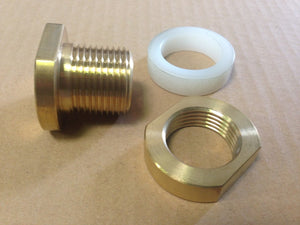 TR7 brass steering column bulkhead bush – no more wear, no more play.
We have announced a new addition to the Hamilton Motorsport range of competition TR7 / 8 parts with the arrival of our brass steering column bush.
The bush is a direct replacement for the standard rubber or polyurethane bush and is a must have item for any competition TR7 that it is looking to eliminate play and movement in the steering column area. Not only that , but it looks a heck of a lot easier to fit than the dreaded polyurethane ones which often necessitate boiling in hot water to make the pliable enough to pop into the hole!
With a long history in TR7 rallying Alastair Flack has developed his range parts on his own car, so if its needed to improve a TR7 rally car to modern standards, Alastair will know about it!
The two part brass bush sits alongside a nylon washer and acts to spread the load on the bulkhead and will not wear out. Available now via www.hamilton-motorsport.co.uk for RRP £125.
---