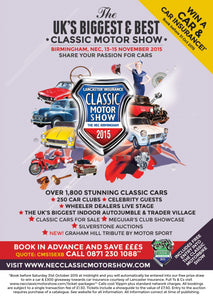 Theme announced for NEC Classic Motor Show 2015
One of the most overused statements overheard at the Lancaster Insurance Classic Motor Show has been revealed as this year's show theme. 'She's a Beauty' will provide inspiration for feature and club displays when the season finale returns to Birmingham's NEC from 13th to 15th November.
As well as the beautiful cars that will have the visitors saying "She's a Beauty", clubs can also take inspiration from the women who inspired classic motoring designs to those ladies that challenged the men when it came to historic motorsport. The NEC show organisers plan to showcase the women involved in the classic scene – both past and present.
Event Director Dan Nwaokolo explains: "The classic motoring scene is no longer a man's world. Each year we have more and more women who are on club committees organising stand displays, young ladies enrolled on classic restoration apprenticeships, and female classic collectors joining us at the show.
"We will celebrate all the women involved in the classic community over the years as well as looking at why owners treat their vehicles with the same passion as they do their spouses. Most owners even give their cars female names! We will explore how a man's passion for his classic is only dwarfed by the passion he has for the other love of his life.
"From the women who are passionate enthusiasts to those who unknowingly inspired the designs we love, we acknowledge them all."
'She's a Beauty' gives the 250 exhibiting classic motoring clubs plenty of scope for interpretation including recognising some of the famous females who made their name in motoring such as rally drivers Michele Mouton, Rosemary Smith, and the late great Pat Moss.
There are also the ladies who are involved with motoring on our screens today such as The Classic Car Show's Jodie Kidd, Fifth Gear's Vicki Butler-Henderson, and Formula One's Suzi Perry.
Before they were recognised for 'getting their hands dirty' in motoring, mostly women were used to bring glamour to the industry as models in the advertising or as grid girls on starting lines, another element of the theme that can inspire fantastic displays.
The 2015 Lancaster Insurance Classic Motor Show will be held from 13th to 15th November with tickets on sale now and Hamilton Classic will be present with the rally car on display plus many show offers and discounts. 
---