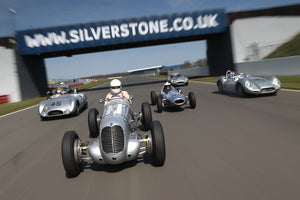 Revised dates announced for 2017 Silverstone Classic
With the FIA World Motor Sport Council ratifying a revised date for the British Grand Prix, next summer's Silverstone Classic is now confirmed for the weekend of 28-30 July 2017 – a week later than the provisional date originally announced.
The UK's round of the Formula One World Championship had initially been set for Sunday 9 July but, with the German Grand Prix no longer on the 2017 F1 calendar, the British event has now been rescheduled for Sunday 16 July.
The massive operational complexities involved in the organisation of the two major international events – both attracting more than 100,000 visitors – make it impossible for Silverstone to host its two most popular annual attractions on consecutive weekends.
"We're sorry to have to make this change but, unfortunately, it's due to factors outside of our control,"said Nick Wigley, CEO of Silverstone Classic organiser Goose Live Events.
Tickets already purchased for the 2017 Silverstone Classic will be valid for the revised dates, while ticket-holders now unable to attend due to the date change have until 28 February to request a full refund. Details of this process have been emailed to those who have already taken advantage of the Early Bird ticket offer.
Full information about the 2017 Silverstone Classic entertainment programme – including more exciting new races, special car club celebrations and live music performers – will be announced in the coming weeks.
Hamilton Classic will once again be exhibiting in the trade arean with a host of show offers on event shelters, marquees, bespoke car mats and our range of indoor and outdoor car covers. Come and meet us, enjoy the racing and grab a top quality product for your classic car!
---