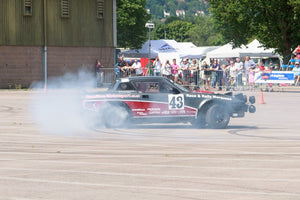 Results of the Hamilton Classic and Motorsport Autosolo 2015
Hamilton Motorsport were sponsors of this years TR Register Autosolo competition in 2015. This years Autosolo event was once again well supported with a variety of entries covering all aspects of the TR marque, including some rally royalty with entries by works cars like the TR4 '7VC' and the TR7 works rally recce car KDU 367N.
The event began with a benchmark time set by Alastair Flack in the Hamilton Classic TR7V8 Rally Car and we provided and presented the awards and some of the event equipment.
Top honors went to Anthony Davies of Y Draig Goch who took to the Autosolo in his TR7 and scooped the overall fastest time of the day with a very impressive time of 21.09 seconds. Unlike previous years, there was very little gap between the fastest times in each of the classes so it was clear to see that most who took part were serious about being competitive.
Hamilton Classic Autosolo 2015 Results:
FASTEST OVERALL: Anthony Davis TR7 Sprint 21.09
CLASS A (4cyl): Andrew Butcher TR7 Sprint 22.83
CLASS B (6cyl): Neil Brown TR250 21.85
CLASS C (8cyl): Phil Hughes TR7 4.6L V8 22.97
CLASS D: Guest Cars: Jake Cluley Renault Clio 22.22
Winner of the V8 Class, Phil Hughes.
Winner Overall – Anthony Davis
---