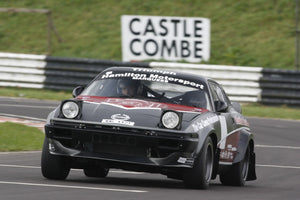 Rally car testing at Castle Combe
One of the first outings this year for the Hamilton Classic & Motorsport rally car was at Castle Coombe, near Bath to join those attending a track day open for all Triumphs organised by the TR Register car club.  Many others arrived to test their Triumphs and we could not have booked more perfect weather with the sun warming the track temperature up without conditions getting so hot that it was uncomfortable for those driving in closed roof cars, helmets and overalls.
Hamilton Classic and Motorsport TR7V8 Rally car performs well.
The Hamilton Classic TR7V8 rally car performed well, although it was apparent from the off that the cars setup was much better suited to loose surface rallying than high speed tarmac and track work. Nevertheless, the car remained poised, pulled well and was relatively stable under braking. One issue that did show up however though was the TRs oil breather system. Such was the grip available even in loose surface setup, the cornering speeds on the Castle Combe circuit for sufficiently high to force oil out of the breather catch tank and down the flitch panel and bulkhead – succeeding in filling the footwells with oil! The Press Officer is apparently still wearing the stains to his racing boots with pride.
We'll be addressing this issue when the newly built , more powerful engine is completed and installed in a few weeks time.
How a track day works.
Signing on always commences super early to maximize track time, but a cooked breakfast and plenty of coffee was laid on for the bleary eyed. Castle Coombe are true professionals at processing batches of cars for track laps. First disclaimers and tickets for the noise test are distributed, and then the participants were required to pass the noise test, or stop to collect an exhaust baffle from Merlin Motorsport and try again! Luckily we are used to such scrutinising and the Hamilton Classic and Motorsport TR7V8 sailed through the noise test without issue.
Following that all drivers and passengers received their safety briefing and some tips on driving the track before signing on and taking to the tarmac. Sensibly, the marshals lead each group out on their first sighting lap of the day to demonstrate braking points and best lines through the corners for those willing to take note.
The cars were divided into groups A through to D according to experience, speed and car specification. A great move because it meant most the cars on track were travelling at a similar pace and ability but most importantly it allowed everyone bags of track time to really get to know the circuit, build their confidence and have a fantastic time. It was also great to see so many spectators attending who although were not driving on track, all added to the fabulous atmosphere in the paddock and trackside.
There was a huge spread of vehicles from very early standard road TR3s, through to the Hamilton Classic fire breathing rally-prepped monster TR7V8 driven by Hamilton Classic boss Alastair Flack. Saloons big and small were well represented, including an Acclaim as were the small chassis Triumphs and of course plenty of TR6s and TR7V8s – both of which seemed to be the preferred weapon of choice.
The event concluded without incident and everyone who had been out on track left with aching faces from all the grinning! For us, it was a valuable chance to test the Hamilton Classic and Motorsport TR7V8 at speed ready for some of the tarmac events we have planned for later in the season.
---