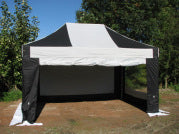 Portable Partying with Instant Marquees
The instant marquee is a multi-purpose, unlimitedly useful outdoor accessory.
Designed with motor sporting enthusiasts in mind, instant marquees are a near necessity if you are planning on showing off your vehicle at a nearby show.
However, the possibilities for functions of your instant marquee end far from the realms of a classic car or bike show. Even the wife or kids might not sniff at your supposed extravagance, when they realise what a fantastic addition to a garden party or summer barbecue their own marquee can be. Fear not the freak showers of summer when a marquee is in place for your party.
Fantastic at festivals, the inevitable downpour will not halt your fun as you continue to drink round the campfire shielded from the open heavens above.
A favourite of builders, gardeners and all other outdoor labourers forced to brave the English weather every month of the year. Portable, affordable and easy to erect, instant marquees are the perfect companion to all weather working; come rain, wind or snow.
Vehicle care enthusiasts, Hamilton Classic, have a terrific selection of instant marquees available at their website, www.hamiltonclassic.co.uk. Picking only the most well made products, there's no need to fear a tear in the material or a collapse in the wind. Passionate about transport, Hamilton Classic know that a marquee which could come crashing down upon your beloved vehicle does not even make the description 'useless'.
With an instant marquee for every budget, Hamilton Classic's selection begins at a very reasonable £175.00.
With a set up time of a mere five minutes – presuming both arms are intact, the Clubman instant marquee is available in a rainbow of colours and is an excellent value general use marquee. Chief Executive of Hamilton Classic, Alastair said, "The Clubman instant marquee has a unique frame design with triangulated corner struts to give increased strength in windy conditions. I take care to pick marquees that are of nut and bolt design, and we offer a full spares back up to ensure your marquee will give many years of service. This combination of strength and simplicity makes me very confident that I am providing all my customers with excellent value for money."
At the far end of the spectrum, Hamilton Classic presents its customers with the option to splash the cash on the 'Professional Instant Marquee'. At £495.00 this probably isn't one for the casual car enthusiast, but as one of the best marquees on the market, it's worth every extra penny.
---