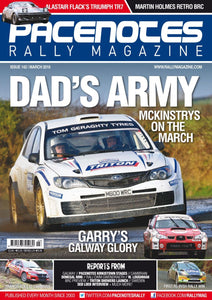 Pacenotes Magazine feature Hamilton Classic and Motorsport TR7V8 rally car
Pacenotes Magazine Issue 142 is on sale now and features our very own Hamilton Classic and Motorsport TR7V8 rally car. The three page spread details the huge engineering effort from Alsatian Flack that went into building and modifying the car for rallying in modern times. The article appeared in the magazines regular 'In my garage' feature and was published following the cars January outing at Brands Hatch in the Motorsports News Circuits Rally Brands Hatch stages and the South Downs stages at Goodwood in February.
Pacenotes Magazine, now in its 11th season, continues to grow in stature and is now regarded as the 'clubmans bible'. Published monthly, Pacenotes aims to keep enthusiasts involved in all areas of the sport up to date on what is happening at club level, through national events up to and including international level.
Pacenotes Magazine – March Issue (142)
Kenny McKinstry is no stranger to the Pacenotes cover and this month he's back in the number one position courtesy of his victory at the Pacenotes backed Kirkistown Stages.
We have a full report and photographs from the event…Also inside, we take a closer look at Alastair Flack's unique Triumph TR7.
As part of our British Rally Championship preview, Martin Holmes recalls memories of the BRC from days gone by and we speak to Iain Campbell to find out a little bit more about the man behind the revitalised series.All the action from the opening round of the Irish Tarmac Championship in Galway is covered, where Garry Jennings took the win from Keith Cronin.
The 2016 BTRDA kicked off with Luke Francis winning the opening round while Sam Moffett became the first driver to take an R5 car to outright rally victory in Ireland when he won the Willie Loughman Stages.
The March issue also has a special feature detailing Matt and Catherine Shinnors' honeymoon – they competed in the Arctic Rally together just a few days after their wedding!
Elsewhere inside, Sarah Whelan and Shane Kenneally are in the spotlight, while this month's 'Club of the Month' is Whickham and District Motor Club.
Order Print or Digital versions online at www.rallymag.com or call 028 4066 0390.
---