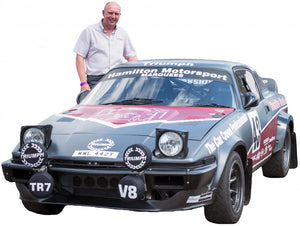 Our unique Triumph TR7V8 enters the MSN Circuit Rally Championship 2016.
The Triumph TR7V8 rally car of Alastair Flack from Hamilton Motorsport is one of the most highly modified examples of the marque in competition today – and he built it himself!
This Triumph TR7V8 monster has a cleverly re-engineered monocoque shell with a relocated spare wheel, fuel filler and tank. It is powered by a 3.5 litre Rover V8 fed via a cast alloy crossover injection system using throttle bodies.
Alastair Flack has developed this TR's many uprated components including alloy hubs, adjustable control arms and two-way variable front and rear coil over suspension, during 17 years of TR7V8 rallying. Now, via Hamilton Motorsport he supplies these items to other owners and competitors.
The driver
Alastair Flack comes to the event with a vast experience in rallying beginning in 1985 with a Mini 1275GT. Alastair later progressed through Astra GTEs, Rover SD1s and even a Chevvy powered comp safari Range Rover but has been dedicated to TR7V8 rallying since 1998 having now campaigned four in total. Over the last 17 years he has racked up a number of TR class wins and top ten finishes. This latest TR7V8 is the most modified car Alastair has created and after significant development during 2015 is expected to deliver some exhilarating results in 2016.
The event
The Motorsport News Circuit Rally Championship event features up to 100 cars across five classes determined by engine size from Austin Minis and 1970s Escorts to Subaru Imprezas and now the Triumph TR7V8 of Alastair Flack and Hamilton Motorsport. The 8 round series will challenge competitors with a mixture of bespoke rally stages across various sections of the UK's motor circuits including paddocks, water splashes and perimeter roads as well as the tracks themselves culminating in a finale in mid- 2016.
The Motorsport News supported Circuit Rally Championship in association with MSVR kicked off back in November 2015 at Oulton Park. Alastair Flack and the Hamilton Motorsport Triumph TR7V8 will join the action at Brands Hatch on 31st January 2016 for Round 5.
Motorsport News is celebrating its 60th anniversary in 2016 and will be offering extensive coverage of the action with event previews and reviews. Hamilton Motorsport will also be sharing the story of their preparation and results via these pages on our blog.
---