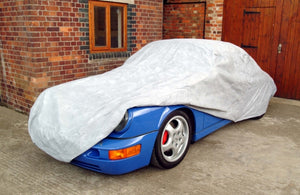 Our latest car cover range
Being passionate about cars can be tough in the harsh northern climate of the UK. With unpredictable weather that all too often makes a turn for the worst, protecting our cars from the inevitable is an integral part of car maintenance. In light of this, experts in car accessories, Hamilton Classics have launched their new range of car covers.
For those of us not fortunate enough to own a home with the helpful attachment of a garage, seeking an alternative way to protect our beloved automobile from all that nature may throw at us can often prove costly and time consuming.
Therefore online car accessories store Hamilton Classic, believes it is an utmost necessity to stock among their extensive shelves of car accessories the all-important car cover.
Director at Hamilton Classic, Alastair Flack said, "I myself am incredibly passionate about cars, hence my choice of car accessories as the field for my first business venture.
Mr. Flack continued, "I have unfortunately had many an experience where nature has done its worst on my favourite car of the time. As such, I have never looked back since the day I purchased my first car cover and now own one to don each of my three most precious cars for the times when I am to consent them to the great outdoors."
Many car lovers are unaware of the potential havoc nature can play upon the exterior of your vehicle; should it sport even the most miniscule scratch, rain will be quick to make a jumpstart on the rusting process.
And even the welcome appearance of the sun poses a potential danger, as it slowly fades the colour of your vehicle.
Among the selection of car covers available at Hamilton Classic is an array of varieties available to cover all or part of your vehicle:
The Car Convertible Top Cover is designed to protect vulnerable soft tops from damage by the uncontrollable forces of God.
To protect the entirety of your cars exterior Hamilton Classic stock their most popular car cover, the Car Outdoor All Weather car cover. Upon visiting their extensive car accessories website, you will be asked to enter the year and model of your vehicle, this will ensure the educated team at Hamilton Classic provide you with a cover that will snugly surround the entire body of your car.
However, keeping cars in tip-top condition is not only about protecting exteriors; messy children and restless bums can do their fair share of damage on the inside of your vehicle too, and nobody wants those luscious leather seats to look older than you do. Therefore the Car Seat Cover is the perfect solution to spilled drinks or accidental tears and at only £15.95 will hardly make a dent in even a credit-crunch budget.
Explore our range of outdoor, indoor and half covers by clicking these links.
---