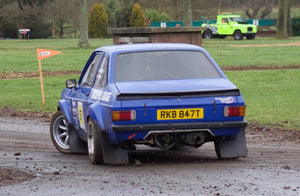 New look Race Retro enjoys record turnout
This year Hamilton Classic and Motorsport were once again sharing our vast range of motorsport accessories, pit equipment, event shelters and car covers with the international historic motorsport community at Race Retro. The annual show brings together all strands of industry from historic motorsport into a show that has as much to offer businesses as it does the thousands of fans that pass through the doors of the National Agricultural Centre, Stoneleigh.
The 2017 event had a fresh new look following the sale of the show to events company Clarion events last year. The change in management clearly inspired fans as the 15th anniversary saw a record turnout of 21,000 over the three-day event. There was plenty of entertaining motorsport action from the live rally stage outdoors held on part of the agricultural showground featuring commentary for none other than Tony Mason.
The live stage played host to some huge celebrities including veteran rally ace Ari Vatanen, former Motorcycle world champion 'Fast' Freddie Spencer and Mr Le Mans himself, Tom Kristensen.
Kristensen took advantage of the opportunity to climb back into his Bentley race suit and squeeze back into the Speed 8 in which he won the Le Mans 24 hours in 2003. There was then a magic opportunity for fans to ask Tom Kristensen questions about his many years at the forefront of sportscar endurance racing.
Surrounding the live stage was also the small matter of a £30million worth of stunning motorsport history ranging from the modern Bentley GT3 racer to a Rover SD1 touring car and the Grand Prix winning Vanwall campaigned by Sir Stirling Moss and Tony Brooks. Another highlight was the unveiling of Jim Clark's Lotus 33 R11 after not having been seen in public for over 40 years.
There were anniversary celebrations to with the 50th anniversary of the Cosworth DFV marked by a display curated my Mike Costin himself who alongside Keith Duckworth founded Cosworth. Cars included the 6 wheeled Tyrell and James Hunts McLaren M23.
Outdoors the Live Rally stage featured over 80 Group a and B cars including Ari Vatanen driving the same Ford Escort and Subaru Legacy he piloted in period. There was also a good showing of Triumphs with a gaggle of replica Triumph TR7V8 rally cars accompanying a genuine works car, the first in fact to wear the iconic red and blue British Airways livery brought to prominence by the successes of Tony Pond and Per Eklund.
Records were broken at the Silverstone Auction where if anyone had mentioned a downturn in the market it was not to be seen here! Over three quarters of the lots on offer were sold with a total sales topping £5.7million! This represented an increase over over £1 million on last year. Our pick of the auctions was the Aston Martin AMR1 Group C racing car that went to its new lucky owners for a cool £530,000.
On our stand at Hamilton Classic and Motorsport, we displayed our Triumph TR7V8 rally car, fresh from the South Downs Stages at Goodwood and resplendent in its new 2017 season livery. Speaking to our customers who dropped by the stand the feedback was good on the new look Race Retro with many commenting on the stunning array of display vehicles on offer. We also had great feedback from you all on our range of car covers and also the new line of carpet sets and bespoke fitted mats that can be made and embroidered with colours and logos of your choosing.
See you at Race Retro 2018 which we are told will be held 23-25 February 2018. For the latest check out www.raceretro.com.
---