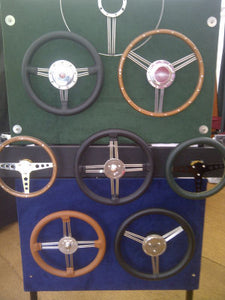 Moto-Lita Steering Wheels & ETB Guages
Two top UK car accessory manufacturers have appointed Hamilton Classic a distributor. They are Moto-Lita and ETB, whose products have a considerable following among classic and sports car owners.
Moto-Lita produces quality steering wheels which are available with classic wood, mahogany, walnut or leather rims, and with three styles of spokes – holes, or narrow or wide slots. There are four diameters, from 13in to 16in, and each hand-crafted wheel is machined from a solid billet, thus giving extra strength due to the absence of rivets.
They fit virtually every make and model of pre-airbag classic and sports car, and cost from £110, with adaptor bosses priced from £39.
Instrument manufacturer ETB has a choice which is equally as comprehensive. The range includes standard 52mm diameter voltmeter, oil pressure, oil temperature, fuel and water temperature gauges and clock, all with black, white, yellow or magnolia faces and brass, chrome or black bezels. Needle colours are black, white or red.
The speedometers are either mechanical or electronic, with the former being individually calibrated for each customer's engine and gearbox requirements. Diameter sizes are either 80mm or 100mm, whilst electronic rev counters are also available in the same sizes. Speedo and rev counter bezels and face and needle colours are similar to those for the smaller instruments. Prices are from £27 for the 52mm gauges and from £75 for the speedos and rev counters.
Alastair Flack, Managing Director of Hamilton Classic, said: "Both Moto-Lita and ETB have such a range of options that the steering wheels or instruments can be virtually tailor-made for each customer's individual requirements, a factor which can be important to owners of classic or sports cars."
---