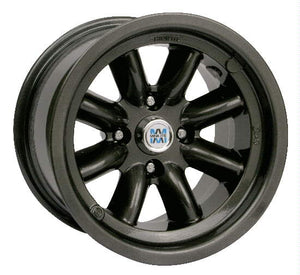 Minilite Wheels (the winning wheel)
Achieving that winning start is the aim of rally enthusiasts and racers everywhere, and getting the basics right is the first step to ultimate racing success. A winning wheel is what carries your team's car over the finish line so it's important to know that your using the best. Motorsport and car modification specialists Hamilton Motorsport pride themselves of providing just this – the best.
With years of experience in supplying car modification and motorsport solutions, Hamilton Motorsport is an essential resource for amateur racers across the UK. As an official distributor of Minilite Wheels, Hamilton Motorsport can provide you that extra edge on the circuit.
The original Minilite was made from magnesium and was the most successful competition wheel of the 60's, 70's and 80's. It was the choice of most works teams due to its strength and light weight. Offering optimum strength in a low pressure die cast aluminum alloy Hamilton Motorsport's range of Minilite Wheels presents an affordable solution with all the original benefits. As one of the leading suppliers of car accessories, vehicle care and car modifications, for both road and motorsport machines, Hamilton Motorsport stock only the best quality products so you know your teams car will get off to a winning start.
Each wheel is machined to order, x-rayed and pressure tested to guarantee strength and durability. Available in many sizes, offsets and colours the Hamilton Motorsport range of Minilite Wheels can fit any car, whether its for rally or any kind of circuit racing.
Along with their sister company, Hamilton Classic, which specialises in car accessories and vehicle care for road and classic car types, Hamilton Motorsport offer a wide range products. From motorbike and car covers through to car accessories, oils and ignition products, as well as a varied choice of car storage options, Hamilton is the first word in car care.
Order your next set of Minilite wheels here
---