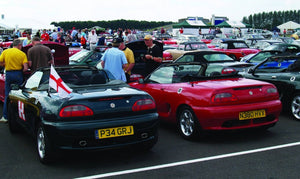 Hamilton Classic at MG Live! 2016
Silverstone Circuit, Northamptonshire, 4-5th June 2016.
The MG Car Club's two day extravaganza returned to the Silverstone for the first weekend in June and featured a packed line up of events, displays and racing alongside some TV celebrities as well. The organising club claims that it is the worlds biggest MG event and as the Hamilton Classic team set up our stand on Friday it was clear to see that statement was far from being an exaggeration!
Mixed racing provided a thrillling backdrop to the event with a variety of marques on track besides just MGs including Triumph, TVR and even some rarieites like an Elva Courier and Turner MkII. MG wise, all era's of  the legendary British sportscar were represented and made throroughly welcome from a 1936 TA Midget and a gorgeous 1938 MG VA Tickford Drop Head right the way through to a 2005 MG ZS fitted with a supercharger giving it 300BHP at its front wheels.
Elsewhere, the event was packed with trade stands including ours, an autojumble, club displays, themed parking areas, a healthy number of cars for sale and a full schdule of live music. The circuit action was just the sole preserve of the racing teams either, with all attendees being encouraged to take part in one of the many track cavalcades. Those on foot could also access the far flung areas of the track via the Vintage bus service.
TV presenters seemed to be at every turn during this years event with Rory Reid, one of the new presenters of BBC Top Gear filming his feature for a forthcoming show on the MGB Abingdon edition, by Frontline. The Frontline version applies modern technology to period looks to provide an MGB that gets to 60mph in a Ferrari munching 3.8 seconds and costs a shade over £100k.
Mike Brewer, a familiar face from Wheeler Dealers on Discovery provided entertainment by teaming up with Russ Swift and his stunt team to captivate audiences with the now famous "human gymkhana" and stunt displays. Ant Anstead from "For the Love of Cars" is a self confessed MG addict and hosted the live arena.
The event was also raising money for charity, in particular Headway. Headway Oxfordshire was born of the efforts of a small group of individuals who came together to share their experiences of caring for loved ones with brain injury and providing mutual peer support. This group grew into what is now Headway Oxfordshire and supports many hundreds of those affected by brain injury across Oxfordshire every year.
For Hamilton Classic it was great to meet so many MG fans and show off out range of fitted covers for indoor and outdoor use, Cair-o-Ports and customised floor mats. The local clubs and those involved with motorsport throughout the weekend also showed a lot of interest on our event shelters and pit equipment, a selection of which were on display via our stand all weekend.
It was also great to see so many of our clients tradestands putting on a great display using our event shelters such as Beech Hill Garage and Rimmer Brothers.
Click here to read more about the racing at MG Live!
---