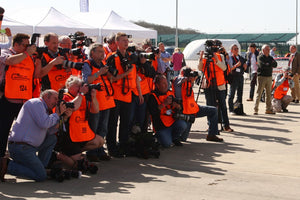 Media frenzy continues over classic car market boom
The classic car press has for a long time, trumpeted the opinion that we are in the middle of some kind of classic car industry boom, where demand has mushroomed and car values have risen as much as 500% in some cases over the last decade. More recently however, the wider media has cottoned on to the fact this this is one of the biggest growing areas of investment for those with a few quid and a growing distrust of banks.
A recent article on CNBC coined the new wave of people entering the classic car scene as 'passion investors' who have noticed that value increases of classic motor vehicles has outpaced art and wine by more than 100 percent.
Enrique Liberman , partner at Bowles, Liberman and Newman told CNBC that, "Ten years ago, classic cars were looked at as collectibles, but now people are recognising them as an asset class,"
Click to read the full CNBC story here.
This follows on from a story CNBC ran just over a year ago terming the new wave of classic car investors as "Jay Leno Wannabes".
Click to read the full CNBC story here.
Most recently, investment advice website 'This is Money' even carried an extensive guide to what cars to invest in and how to avoid some of the pitfalls along the way.
Read the article on This is Money here. 
While another investment publication, Investment Week have heralded 1980s classic cars , much maligned for years but now increasing in value as the next opportunity with vehicles like the Jaguar XJS and Mercedes 190E seen as the next money making opportunity:
Click to read the full article in Investment Week here.
The classic car press has responded with a number of articles advising on what their journalists think is the next undiscovered classic car gem set to rocket in value:
Click to read the full article in Classic Driver here.
Its not clear when or even if the current classic car market boom will end. There are a number of concerns around the rising prices taking the cars out of the hands of enthusiast owners and into the realm of bubble wrapped examples stowed away from the public in air conditioned storage facilities. Many Owners clubs also fear that the current wave of investment owner is not interested in involving themselves or their vehicle in the events and club scene. Furthermore is a concern that the new generation of classic car fans have far more modern tastes, potentially meaning that demand and interest in the pre – 1970 cars may decrease in future years. All that remains to be seen, but if events like the NEC Classic Motor Show, Silverstone Classic, Goodwood Revival and Le Mans Classic are anything to go by – we need not worry about the popularity and enthusiasm of the classic car scene in general.
What is certain is that all owners should take care of their ever appreciating asset and this is where Hamilton Classic can help of course with our range of car covers and climate controlled Cair – o Ports – click here to find out more! 
---