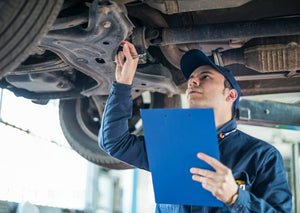 Important changes in UK legislation proposed by the DVLA / Dept of Transport. MOT exemptions, Q-plates, modifications from standard and vehicle history.
It has been a turbulent time for us classic car enthusiasts in what seems to be one government announcement after another of late.
In mid-September the Department of Transport announced that in fell swoop, classic cars over 40 years old have been exempted from the annual roadworthiness test effective from 20th May 2018. The exemption will be applied on a rolling annual basis but, and here is the rub, will only apply to vehicles deemed not to be "substantially changed" from standard specification – more on that point in a moment.
This move was taken despite the consultation survey showing that 55% of respondents were against the proposed plans for the MOT to be scrapped for historic vehicles. This will result in the current figure of 197,000 exempt vehicles on the road increasing to 293,000 almost overnight.
The justification from the Dept of Transport appears to be based around research that suggests that there are lower MOT failure rates for vehicles over 40 years old and that fewer of them are involved in fatal road collisions.
The majority of car clubs have issued the same advice to their members and that is to continue getting your MOT regardless of changes in the law. We here at Hamilton Classic are also Classic car enthusiasts and we believe that getting your car on a proper lift with an independent, professional pair of eyes to give it the once over is the right thing to do.
Whilst you cannot of course generalise all classic car owners, most of us would acknowledge that on more than one occasion we have undertaken work on our car with more urgency than normal to ensure it enjoys a clean sweep at the MOT. Will that still be the case now the requirement for inspection is taken away? For example, how many property landlords would service their boilers every year if the law didn't require it? Sadly, the Dept of Transport figures bear out that assumption with only 6% of pre-1960 cars being presented voluntarily for MOT since their exemption came into force. If we are honest with ourselves, we have all been surprised at an MOT at least once when the inspector has found a potential safety critical problem that we were unaware of.
One worry that has been expressed in the classic car media is the view that the new legislation, rather than keep classics on the road, may prove to cause the opposite. Without an annual inspection to point out corrosion issues for example, rust might be ignored until it is too late. We all recognise that it is cheaper to keep classics going with regular repairs rather than face pulling them apart for a full restoration further down the line. The effects on the secondhand market will also be profound as without an MOT requirement it will prove harder for buyers to weed out potentially dangerous cars offered by the unscrupulous seller.
Westminster is now locked into talks around inconsistencies between DVLA changes to classic cars and the way they are registered.
Your cherished classic car will no doubt have its original age related registration number which it has worn all of its life. However, over the years, you may have had to make certain changes to various components as part of the expected maintenance régime. According the DVLA's consultation results document, that may not now be enough to satisfy them that your classic car is indeed a historic vehicle. Furthermore, if they prove it, your classic car could end up wearing a Q-plate and not qualifying for historic vehicle status or MOT exemption.
These changes are all to do with enforcing what the DVLA is going to call "substantial change" when deciding whether a classic is indeed a historic vehicle and whether it should be allowed exemption from MOT and also potentially retain its age related registration plate. So how is substantial change going to be defined? The Department of Transport issued us here at Hamilton Classic the following statement:
"In our consultation last year we did propose to use the DVLA's 8 point rule, which is used to determine whether a modified vehicle should be re-registered. Having given this further consideration, our current draft of guidance is now proposing instead that modified vehicles with an increased power/weight ratio of 15% or more should now be considered substantially changed".
What is not addressed in that statement however are the references in the draft guidance to any changes away from factory specification for even a non-restored car, which refer to such minor changes as telescopic dampers or disc brakes for example.
Originally it was understood by the Federation of British Historic Vehicle Clubs (FBHVC) that the declaration of modification would not be compulsory, but further statements from the Department of Transport have since suggested that it will be: "where the vehicle keeper is re-licensing their vehicle on-line it is intended that an additional question be asked whether the vehicle has a current MOT and the vehicle keeper will be required to declare that their vehicle has not been substantially changed since 1988. Appropriate safeguards will be in place that will prevent a vehicle keeper from declaring the vehicle is over 40 years of age and progressing to the next stage of the licensing process, before first declaring whether or not their vehicle has been substantially changed."
The enforcement, as we are reliably informed, would begin with letters being sent out to thousands of classic car owners asking them to prove that they have not substantially modified their vehicle since 1988. The FBHVC have responded saying, "this would seem to be an inappropriate use of public money, especially when you consider how unclear it is to rectify this matter based on their confusing guide lines."
In a statement, the FBHVC said, "We are unsure as to what type of vehicle this exclusion is aimed at trapping. However, what is clear is that the adoption of the rather modest 15% uplift threshold would capture a great many vehicles which even in period would have been offered with standard power unit options exceeding by some margin, these tight limits".
They later went on to elaborate on this statement in their consultation response document where they stated; "There are very many vehicles, currently and often long regarded in Great Britain without question as being historic, which have undergone substantial changes to the technical characteristics of their main components, often very early in their long lives.  The result of this freedom has meant that limited records exist of the extent or date of modifications of motor vehicles, whether on an individual or statistical basis.  What is absolutely clear is that introduction of a technically based standard for acceptance as a VHI (Vehicle of Historic Interest) would limit existing freedoms, and create a division within the cadre of historic vehicles in Great Britain which has not previously existed. Contrary to the assertion of the Consultation, at least some measure of new regulation would be being introduced, which would substantially affect our members".
There clearly are more questions created by this guidance than answered. Firstly, 15% more of what? Factory handbooks, period advertising, manufacturer specifications, workshop manuals and Autocar road tests all have slightly differing figures. Is it SAE or DIN output – because that must be consistent throughout the measurements? Who is going to measure the power output of every classic and how we do know the equipment is calibrated correctly? After all, even the weather on a particular day can affect the readings from a rolling road.
This raft of questions and many more from car clubs across the classic car spectrum are currently being compiled by the FBHVC who are currently locked in crucial talks on behalf of all classic car owners with both the DVLA and Department for Transport.
DVLA:
Roadworthiness testing for vehicles of historic interest consultation results
Vehicles of Historic Interest Substantial Change Guidance
FBHVC:
Roadworthiness testing for vehicles of historic interest, impact statement
Response to Roadworthiness testing for vehicles of historic interest consultation
Press statement from the FBHVC on the DVLA / DofT announcement.
---