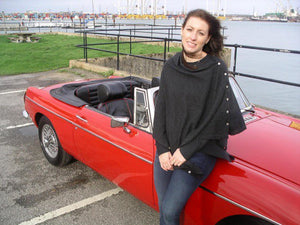 Helen Gascoigne: the UKs first classic car, lady Auctioneer!
Helen Gascoigne (33) is the daughter of Barons Director Peter Gascoigne and has combined her love of classic cars with her knowledge of the family business to start a new career in the classic car auction trade. She brought the hammer down on a selection of lots at Barons Yuletide Classic Sale at Sandown Park last Tuesday, 15th December 2015 and in doing so gave Barons the accolade of the first UK auction house to feature a lady auctioneer.
Being a senior lawyer by profession, Helen is no stranger to public speaking nor is she unfamiliar with the word of classic cars, in an interview with Classic Car Weekly she says "My mother, little brother and I spent every other weekend being transported to all the different race circuits in England and Wales to watch Dad race his Jaguar 420, which was great fun.  I have lost track of how many ridiculous but lovely cars I have had (I have had more than one Alfa…) and am very lucky to have had the opportunity to see and drive so many beautiful classics."
The Barons Yuletide Classic Auction featured a diverse range of classic and collectors cars including at Series 1 Jaguar E-Type 3.8 flat floor roadster, 1960 Bentley Continental S2 and a 1980 Teal Bugatti aluminium replica amongst many others.
We look forward to hearing more about the successes of Helen Gascoigne and all the other ladies making waves in the classic car industry. Of course if you are lucky enough to be bidding on a car from her, you will definitely want to protect it with one of our specialist car covers!!
---