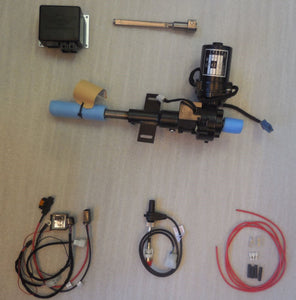 Hamilton Motorsport launch high-performance electric power steering kits.
Steering for Triumph TRs just got a whole lot better with this kit that brings handling right up to date for the 21st century.
Those utilising power steering for motorsport applications have long preferred modern electric systems to the archaic hydraulic assistance of old. The obvious advantage is that without an engine driven pump there is no drain on the engine's power output and road cars can benefit from an increase in MPG as a result. Furthermore with the need for extra drive belts removed, reliability in motorsport for high revving engines is greatly improved.
Alastair Flack, MD of Hamilton Motorsport explains further; "Modern electric power steering has fantastic feedback and feel and in motorsport applications especially, as it reacts much quicker to driver inputs than traditional hydraulic systems where high pressure fluids are being asked to change direction very quickly. We test all of our products in motorsport ourselves and so can talk from first hand experience of pushing them to the limits and beyond. "
The system works by an electric motor mounted to the side of the column that drives a mechanism to aid the steering effort. It is able to react quickly to road speeds and driver inputs by constantly monitoring them via its torque sensors, which feedback to the module when and how much assistance is required.
The kit is aimed initially at Triumph TR7 / TR8 but other kits for Triumphs are available. Its is fully TUV approved for the TR7/8 and can be fitted DIY in just a few hours using the supplied column, motor, electrics, lower shaft, mounts and all fixings.
The kit is available to order now from Hamilton Motorsport for £2,250 Inc. VAT.
For more details call Alastair on: 0118 973 7300. Or visit: www.hamilton-motorsport.co.uk
---