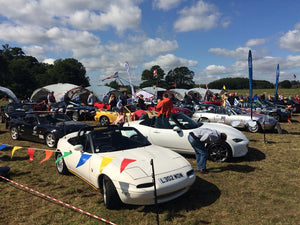 Hamilton Classic wish the Mazda MX5 Owners Club a Happy 21st Anniversary!
We were very excited to attend the 2015 National Rally of the Mazda MX5 Owners Club with the Hamilton Classic trade stand.
The event was held in the grounds of the stunning Kelmarsh Hall and Gardens that are set in some of the most beautiful countryside in England.   Although surrounded by some great MX5 cruising roads, the venue was easy to get to, being as it is, just half a mile away from the A14, minutes from the M6 and M1.
There seemed to be more traders than ever and we were present with our very own MX5 to join in the 21st anniversary celebrations for which we were graced with some lovely autumn sunshine. Alongside the trade village there were area displays, entertainment and a collection of just about every sort of Mazda MX5 your imagination could conjure up – from the bog standard to the heavily customised and everything in between.
Left: We loved the effort this Mazda MX5 owner had gone to to bling up his engine bay!
Right: This Mazda MX5 had been customised to look like a Lotus!
With the new Mk4 Mazda making its way on to roads any day soon, specialist dealer Knights Garage were there to show off the new model although amongst enthusiasts there will always be controversy over the age old question of which generation of the MX-5 is the best…
To round off the event, the Park Inn by Radisson in Northampton played host to a fabulous dinner and dance on the evening of Saturday 5th September with a three course meal and the Dirty Carpet Band.
---