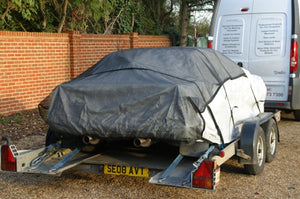 Hamilton Classic Revolutionise Car Towing with Innovative New 'Cover Hugger' product
Designed in-house the revolutionary new car cover "Cover Hugger" started life on the drawing board, after it was discovered that a gap in the market had appeared for a cover that protected vehicles whilst they were in transit.
The brainchild of Alastair Flack, Managing Director at Hamilton Classic, 'The Cover Hugger' is manufactured from tough nylon mesh which straps over the top of your vehicle while a highly durable set of straps and hooks ensure that it remains in place at all times, even when travelling at high speeds
Alastair Flack whose firm offer everything from valeting products to car accessories said, "When you're towing a car to a show, dirt and grime from the road will always be an issue especially if it is being transported on a trailer. If a traditional car cover is used to protect the vehicle, the cover will often flap in the wind and balloon up in a similar style to a parachute. Eventually the cover is likely to rip rendering it useless.
"We had many customers contacting us, sick of having to clean their car when they arrived at an exhibition or industry show, they would rather spend that extra time liaising with others and having a good time. Likewise, those selling a car, need it to turn up in pristine condition to create the right impression, making the target market for this product immense.
To ensure that you get the optimum performance out of your Cover Hugger Hamilton Classic are recommending that it should be used with their Moltex 5 cover.
Mr. Flack added, "The Moltex 5 comes complete with a fleece lining to ensure that any movement will not interfere with a vehicles paint job – it is also supplied with straps, hooks and additional eyelets to ensure the cover is always firmly attached."
The Cover Hugger is available from Hamilton Classic now in three different sizes. A small is £64.95, a medium is £69.95 and a large will set you back only five pounds more at £74.95.
---