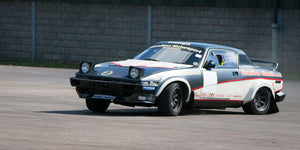 Hamilton Classic raise £250 for Cystic Fibrosis
As part of the annual TR Register Car Club's International Weekend, Hamilton Classic once again donated passenger rides in our Triumph TR7V8 Group 4 Rally car. The thrill rides took place on the event's Autosolo course where Hamilton Classic owner, Alastair Flack did his best to slide, doughnut skid and drift his passengers towards the ride of their life!
The event which is run every year by the TR Register and boasts the largest gathering of TRs anywhere was held at the Three Counties Showground, Malvern over the second weekend in July 2017 and attracted over 1,500 TR Enthusiasts from around the world. The show also boasts a live arena, autosolo, road runs, free technical seminars as well as Gymkhana and live music.
The charity benefitting from all this fun this year was the Cystic Fibrosis Trust and the thrill rides raised £250 towards the £1,000 total achieved in the charity auction on the opening night of the TR Register International Weekend.
---