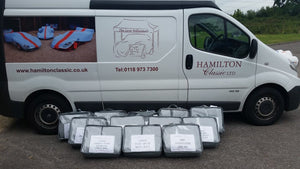 Hamilton Classic look after Chris Evans Magnificent Seven for CarFest and Children in Need 2015
Once again this year 12 highest bidding couples were given the unique opportunity to experience seven of the most gorgeous Ferraris on the planet and five equally breathtaking classic convertibles through the English countryside in aid of Children in Need, all part of the CarFest event.
The tour, starting at the Berkshire home of BBC Radio 2 DJ Chris Evans also saw the lucky few sit in on the Radio 2 show broadcast live from the Ferrari garages in the company of F1 legend Jody Scheckter with a breakfast provided by TV Chef James Martin. Later they were treated to a thrill ride with The Stig from BBC Top Gear around Thruxton race circuit.
Of course whilst all the lucky auction winners were enjoying the fine dining, hotels, hospitality and the CarFest event itself – the cars needed to be kept under cover so they looked their best for the big moment. This is where Hamilton Classic came in, providing tailored car covers made from our high tech Moltex material for each of the cars to ensure they were cosseted whilst out on tour in the manner to which they are accustomed!
To celebrate this, we also gave away two of our exclusive Hamilton Classic beanie hats to two winners quick enough to identify these covers on our Twitter (@hamiltonclassic) and Facebook (Facebook.com/hamiltonmotorsport) pages.
THE MAGNIFICENT SEVEN CARS
CAR 1 – 1963 FERRARI 250 SWB
CAR 2 – 1964 FERRARI 250 LUSSO
CAR 3 – 1965 FERRARI 275 GTS
CAR 4 – 1966 FERRARI 275 GTB 6C 'ALLOY'
CAR 5 – 1971 FERRARI 365 GTB4 SPYDER
CAR 6 – 1973 FERRAI 365 GTB4 COUPE
CAR 7 – 1989 FERRARI 328 GTS
THE DROPHEAD DROP DEAD GORGEOUS FIVE CARS
CAR 8 – 1964 ASTON MARTIN DB5 CONVERTIBLE
CAR 9 – 1964 DAIMLER SP250 DART
CAR 10 – 1967 JAGUAR XKSS
CAR 11 – 1970 MERCEDES 280 SL PAGODA
CAR 12 – 1978 ROLLS ROYCE CORNICHE CONVERTIBLE
Hamilton Classic are proud supporters of the Magnificent Seven, Dirty Dozen, CarFest and BBC Children in Need.
---