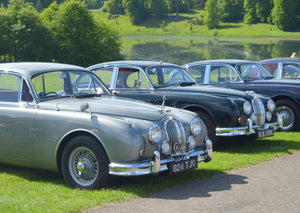 Hamilton Classic enjoy the Summer Jaguar Festival at Blenheim Palace
The majestic grounds of Blenheim Palace, Oxfordshire, bathed in sunshine whilst playing host to an impressive array of over 1,000 Jaguar cars on Sunday, May 12. It was a record turnout for the Jaguar Enthusiasts' Club's Summer Jaguar Festival. There was something for everyone, with enthusiasts treated to displays of Jaguars from all eras, both modern and historic. The show cars represented everything from pre-war 'SS' models to E-Types and rare Mark V saloons, up to the very latest factory-fresh XE, F-type and all electric I-Pace models.
Hamilton Classic were exhibiting in the event's trade area with our range of car covers and event shelters plus a whole host of useful accessories for keeping Jaguar's in top condition. 
Visitors were presented with the largest gathering of Film and TV Jaguars ever assembled, including James Bond cars, the red E-type from Sean Connery's 1964 thriller Woman of Straw, the Italian Job E Type, the Mark 1 saloon from TV drama Endeavour and Arthur Daley's beloved XJ6 from classic TV series Minder; a car that has seldom been displayed in public.
Guests also enjoyed an incredible motoring spectacle as a procession of over 100 Jaguars, representing almost every model and era, paraded around the roads of the Blenheim Palace parkland. The motorcade featured club members' cars and payed particular homage to the iconic MKII saloon, a model that is celebrating 60 years since its launch and was immortalised by the fictional British TV detective Inspector Morse.
A historically significant moment occurred during the event when visitors witnessed over 60 ex-team members of the legendary Tom Walkinshaw Racing team (TWR), who were based locally in Kidlington, re-united for the first time. The reunion included personnel involved in all aspects of the team from engineers and mechanics to racing drivers and designers from an internationally famous racing team. TWR employed hundreds of people in Oxfordshire and beyond during their heyday and became synonymous with Jaguar after talking them to initial victory with the European Touring Car series with the XJS programme of the early-1980s. TWR followed that up with World Sportscar championship wins and victory at Le Mans in 1988 and 1990. Later, TWR developed road cars for Jaguar and eventually translated their racing car into supercar guise in the form of the XJR-15 leading to what was to become the fastest car in the world at the time, the Jaguar XJ220. The TWR display at Blenheim found crowds buzzing excitedly over the legendary purple liveried XJR-9, the very car that won Le Mans in 1988 and Tom Walkinshaw's own Group A XJ-S V12 still resplendent in its white-on-green livery.
One of the TWR XJ220s that raced at Le Mans in 1993 was also present, displayed at the show by owner Don Law.
Interviews and commentary were ongoing throughout the day and broadcast to the palace grounds via a huge TV wall, with expert presenter Wayne Scott interviewing visiting celebrities from the world of Jaguar. Interviewees included 1988 Le Mans winning driver Andy Wallace, TWR engineer Allan Scott, race strategist Alastair MacQueen and revered racing car designer Tony Southgate, who was responsible for penning the TWR Group C Jaguars.
Speaking during his interview at the event, Andy Wallace, who drove the Silk Cut Jaguar XJR9 to victory at Le Mans in 1988 alongside Jan Lammers and Johnny Dumfries said,
"It's been great meeting up with all my old pals from TWR. When we won Le Mans in 1988 it was really was a team effort. It was an incredibly important moment in my racing career that I look back at with pride and to be able to share those memories with Jaguar fans today was something special."
Fans of British GT motorsport flocked towards the palace courtyard, which displayed the Invictus Games Racing team, giving aficionados an opportunity to get up close with the team's F-type currently competing in the GT4 category of the championship. Consisting of two ex-military servicemen, Paul Vice and Steve McCulley, who overcame horrific injuries fighting for their country, the Invictus Games Racing team was represented by their pro-driver team mate Matthew George, who spent the day chatting to fans, signing autographs and explaining the inspirational story behind the team.
Jaguar fans travelled from all over the UK and indeed the world to attend the event, including visitors from the USA and mainland Europe. One such owner, Tor Bottolfsen, drove his TWR Jaguar XJ12 all the way from Norway to attend. In recognition of this, he was awarded the first "Trust Trophy" from the Jaguar Heritage Trust for his very rare car which is one of just six ever made.
The event also offered a trade show, selling everything from hard-to-find model cars to new-old parts and contemporary products for both classic and modern Jaguars. For fans of aviation, the day was punctuated with a Supermarine Spitfire fly-past courtesy of the Battle of Britain Memorial flight over the house known as the birthplace of Sir Winston Churchill.
Those who remained torn between attending Blenheim's 2019 Summer Jaguar Festival and watching the Spanish Grand Prix found solace when the F1 event was shown live on the big screen from 2pm onwards.
Speaking after the event, the Jaguar Enthusiasts' Club General Manager James Blackwell said,
"We had high hopes for the event at Blenheim Palace and on the day the festival exceeded all our expectations. It was a really special day, made perfect by the glorious sunshine and the elegantly grand surroundings that complimented perfectly, the vast array of classic Jaguars on display. It was great to see so many happy faces enjoying our Film and TV car displays."
As the baking sun saw out the afternoon shadows, the village of Woodstock's roads became dominated by a plethora of both classic and modern Jaguars as participants set off for home, drawing locals onto the streets for an impromptu spectacle.
---