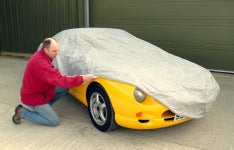 Hamilton Classic comes to the aid of early hatchback classic cars
Classic Cars come in all shapes and sizes – and ages. Whilst the marques which are mainly accepted within the category range from Alfa Romeo and Aston Martin to Triumph and TVR, the early high-performance hatchbacks are now classics in their own right.
They are models, however, which are poorly served by car-cover manufacturers.
For owners of such favourites as the early Peugeot 205 GTi and VW Golf GTI, it is very much a case of buying a saloon-style cover and accepting its shortcomings.
Accessory specialist Hamilton Classic has now remedied that failing with the introduction of a semi-tailored outdoor covers specifically for such hatchback models.
Made of Hamilton Classic's exclusive Moltex material which is waterproof, breathable, and uniquely has a soft fleece lining, it differs from the conventional saloon cover in that it incorporates a curved back, thus ensuring a snug fit which both looks pleasing and offers better protection.
It is available in small, medium and large, at prices from £97. Click here to order yours.
---