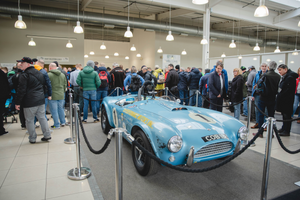 Hamilton Classic at Race Retro 2020
Race Retro, which is hailed as Europe's number one historic motorsport show, saw enthusiasts of historic motorsport brave the inclement weather to visit Stoneleigh for what many hailed as 'the best ever' edition of this ever-growing event.
With over 140 rally cars in action, a stellar line-up of celebrity drivers and guests, over 24,200 attendees came together for the annual celebration 
Making his show debut, French World Rally Champion Didier Auriol was just one of the guests appearing on the Live Stage. So to, was European Rally Champion Chris Ingram, F1 driver Martin Donnelly, Le Mans racer Andy Wallace, and former McLaren F1 mechanic Marc 'Elvis' Priestley to name but a few.
On Saturday and Sunday, visitors enjoyed the high-octane action on the two Live Rally Stages with over 140 Group B and WRC cars in action under the watchful eye of Rallying with Group B.
The wet weather only added to the fun as the cars slipped and slid around the rally stage, resulting in a fantastic spectacle for onlookers. There were TRs amongst the field as well with a pair of TR7V8s ensuring the spectators were treated to the sound of raring TR V8s. Neil Maynard was behind the wheel of the number 327 car with the number 328 TR7V8 being driven by Trevor Hancock. 
Inside the halls, David Appleby engineering showed off some incredible workmanship with a rotisserie mounted TR7V8 rally car shell with some incredible fabrication on show, plus a nearly finished car that is expected to be out and running soon. Both looked incredible and a testament to the skill and engineering expertise that exists within the company who last year ran, developed and prepared, the pair of Invictus Games Racing GT4 Jaguar F-Types that ran in the 2019 British GT championship.
David himself owns a pair of lovely TR5s. He began rallying in 1982 in a TR8 progressing from road rallies to becoming a tarmac stage specialist.
Rather than being just a hobby he decided that he would like to work in the motorsport industry and took a position at Austin Rover working as Tony Pond's technician on the World Rally Championship with the Metro 6R4. When the cars were banned in 1987 David decided to use his knowledge of the 6R4 by setting up his own company as a specialist.
Silverstone Auctions' two-day sale also secured some good results including an Aston Martin DB5 seeing the hammer down at £708,750, a WRC 2007 Subaru Impreza selling at £189,000, and 1 1992 Lancia Hyena Zagato finding a new home for £168,750. With significant interest and enthusiastic bidding, a sales rate of 70% was achieved with £1.5 million in sales.


Harry Whale Silverstone Auctions Sales Manager commented on the weekend: "We always enjoy coming to Race Retro, such a great show and for us and a great way to kick off the year. We had some very notable cars on offer and the bidding for Lot 220, the Subaru Impreza WRC S12B , was fascinating to watch with one very determined bidder ensuring he was going to be taking it home.Our classic car sale on Saturday had some superb cars on offer and with James Bond very much in the news, it was appropriate that our highest selling car was the Silver Birch DB5."
Another lot with a wonderful story was Lot 226 the pair of Jaguar F-Type SVR GT4 race cars and spares that were prepared by the aforementioned David Appleby engineering. A project created and funded by Superdry founder James Holder for the Invictus Games Foundation, gave injured servicemen the opportunity to compete in motorsport at one of the highest levels. Huge sums of money were put into this project and now provide a future opportunity for the new owner, who purchased the cars for £213,750. 
There were also strong sales from the 250 specialist traders as well as the ever enduring Autojumble as race and rally teams and their drivers grabbed all their gear for the season ahead.
---