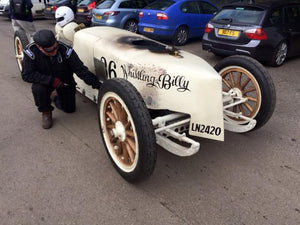 Hamilton Classic at Castle Combe Autumn Classic
In 1955, Castle Combe near Chippenham just east of Bristol hosted what was to be its last ever Formula 1 race. Fast forward to 2015 and once again the Wiltshire countryside resonated to the sound of historic race engines from the golden era of motor racing.
Saturday October 3rd saw the Autumn Classic take place at Castle Combe and Hamilton Classic were there supporting the event with a trade stand and our latest selection of products. Due to its timing, just as the classic car season comes to a close, the event was very busy for us as many clients rushed to ensure they had cover and accessories ready to ensure their pride and joy was suitably protected during the forthcoming winter lay up.
Alongside the trade show there was much to keep the crowds happy in between the  thrilling races with displays of BRM machines including the BRM P15 (Mk1), which won at Castle Combe way back in 1953 driven by Ken Wharton and a tribute to Ivor Bueb, Le Mans Winner who cut his teeth in motorsport at Castle Combe.
One of the rarities that caught the Hamilton Classic teams eye was that of  'Whistling Billy' , a steam powered racing car from 1905, which Dr Robert Dyke, its owner tells us weighs two tonnes, is 14ft long and capable of 130 miles per hour!
Whilst the displays were mesmerising,  the racing is what captures the imagination the most at Castle Combe's Autumn Classic , though sadly, a high profile incident involving one of the most valuable cars ever raced at the circuit proved to be major talking point. The Castle Combe Press Release told us more after the accident;
"In a bizarre multi-car incident at Quarry corner on lap 10 of the race for 1950's sports cars, Aston Martin DBR1/4, a former 'works' car which was driven by Stirling Moss and finished 2nd at Le Mans in 1959, suffered serious front and rear end damage. The other two cars involved, an Austin Healey 100 and a Jaguar XK, were also extensively damaged. The Aston, reputedly worth around £20m and featured in Paul Hollywood's BBC2 programme on famous Aston Martins the following evening (Sunday), is owned by venture capitalist, Adrian Beecroft from London. Following the incident, the 30 minute race was brought to a premature end on lap 12, the Aston returned forlornly to the paddock on the back of a recovery truck."
Image courtesy of http://www.HistoricRacingNews.com
The Austin Healey club enjoyed great success with a pair of commemorative races celebrating 25 years of International Healey Racing.
The 'Terry Sanger Trophy Race' for pre-1966 'Touring Cars' is run in memory of the racing legend and engineer. This year the event was won by local competitor Michael Squire in his Mustang with an ex- Sanger Ford Falcon piloted by  Chris Clarkson taking second ahead of Chris Sanders in his Lotus Cortina.
The Vintage Sports Car Club's race for pre-war sports cars  featured some familiar machinery to those who like Hamilton Classic, attended Goodwood Revival this year, with Patrick Blakeney-Edwards taking the win in his Frazer Nash Super Sports.
Mercedes
---