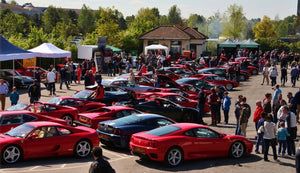 Hamilton Classic at Auto Italia 2016, Brooklands
Auto Italia Magazine have hosted this awesome event for the last 30 years and have grown it into the UKs best event for enthusiasts of Italian machinery.
This year, the event was once again held at the location of the oldest race track in the UK – Brooklands near Weybridge in Surrey.
As well as countless static displays, the event featured the chance to see and hear selected Italian cars being demonstrated on the Mercedes Benz world circuit on-site and the vintage hillclimb.
It wasn't just about the exotica either. Although, the displays were packed with Ferrari, Lamborghini and Maserati  just as much love was lavished on more accessible vehicles from the likes of Fiat, Lancia and Alfa Romeo. Although only Italian in the heritage of its name (designed by VW in Germany, built in France) a stunning yellow and silver Bugatti Veyron managed to capture the imagination of the record breaking 6,000 strong crowd of enthusiasts who flocked to the event.
There were numerous car club displays, a seemingly endless sea of show cars and of course a variety of trade and exhibition stands of which Hamilton Classic were one. It was great to meet so many Italian car enthusiasts despite the chilly weather at times. There was a lot of interest in our premium fitted indoor and outdoor car covers, event shelters and in particular our range of bespoke mats and carpets. Its amazing how many Italian manufacturers are difficult to buy branded mats for, luckily we can help either from our own database of patterns or from a paper template.
We hugely enjoyed being a part of this fantastic event and look forward to returning next year.
---