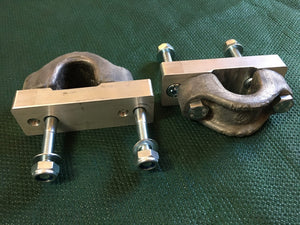 Hamilton Classic and Motorsport launch refined Anti-Roll Bar spacer kit.
For many years a common upgrade for TR7/8 models was a simple solution of adding aluminium block spacers between the anti-roll bar brackets and the sub frame to tension the anti-roll bar and reduce nose-diving under braking and reduce body roll and under steer. The problem has been that all the current solutions on the market do not include the machined recess essential to ensure that the brackets can bolt up around the mounting bush properly. The sub frame has a recess built into it to take the lip of the bush, but a simple block does not. Furthermore the opportunity of increasing the castor angle is wasted as they invariably locate the anti-roll bar in the same fore/aft position.
Hamilton Classic and Motorsport have refined that rather rudimentary idea with these high quality machined Anti-Roll bar blocks complete with the proper recess for the anti-roll bar bush so it will actually bolt up properly. In addition, this recess and new bolt holes are offset from the original mounting holes so the anti-roll bar is pulled forward by 14mm, pulling the track control arm forward increasing the castor by almost 1.5 degrees.
Increased castor improves steering response, makes braking more stable, increased negative camber on outside wheel in corners and improved high speed stability, a benefit for all TR7 & TR8's both road going and within competition.
Available now: £79.95.
Price is for a PAIR of brackets
All high tension bolts supplied
Anti roll bar clamps NOT supplied, use your existing ones.
To order / find out more visit http://www.hamilton-motorsport.co.uk. Or call: 0118 973 7300
---