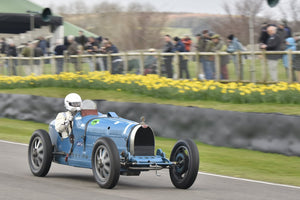 Franco-Italian pre-war racers to do battle in all-new Varzi Trophy at Goodwood
A brand-new race for French and Italian pre-war Grand Prix and Voiturette machines has joined the roster for the 75th Members' Meeting, taking place at the Goodwood Motor Circuit on March 18th-19th.
Named in honour of Italian superstar Achille Varzi, who switched from motorcycles to cars in the late 1920s and achieved great success for Alfa Romeo, Auto Union and Bugatti during the 1930s, the Varzi Trophy will form part of the 12-race programme during the Springtime spectacular.
Catering for cars that competed up to 1939, the race will feature a mouth-watering line-up comprising beauties from Alfa Romeo, Bugatti, Delahaye, Maserati and Talbot-Lago.
Members and racegoers at the 75th Members' Meeting, the fourth of the Motor Circuit's recreations of the 71 period BARC Members' Meetings, will be able to ogle 8C 2300 and 2600 Monzas and P3 Tipo Bs from Alfa Romeo, all the important racing Bugattis, Types 35, 35B, 51 and 59/50B, a Delahaye 135S and classic Maseratis in the shape of 4CM, 4CS, 6CM, 8CL, 8CM and V8 RI and a T150C from Talbot-Lago.
A limited number of public tickets for the 75th Members' Meeting are available and likely to be sold out in the next few days. Tickets are on sale at www.goodwood.com and at the Goodwood Ticket Office on 01243 755 055.
---