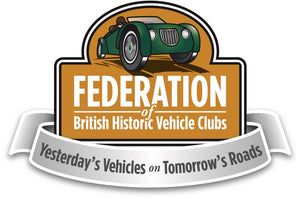 FBHVC survey uncovers extent of classic car boom
The Federation of British Historic Vehicle Clubs (FBHVC) recently announced the results of their historic vehicle industry report that surveyed the activities and opinions of those in the trade, classic car owners, clubs and members of the public alike.
The last survey was carried out in 2011 and the results of the latest research show significant changes over the past 5 years.
Results at a glance:
Numbers of historic cars in the UK increased from 425,000 in 2011 to 512,499 in 2016.
The movement generates £5.5billion – an increase of 27.9% from 5 years ago.
28% more people employed in the classic car industry a growth from 28,000 to 34,900 in five years.
The value of all historic vehicles is estimated at £17.8billion
Half a million owners of classic vehicles
1,039,950 classic vehicles including motorcycles, cars, tractors
Marque loyalty:
British cars remain a firm favourite with 12% of the cars on the road being MGs, 10% Fords and 8% Triumphs, 8% Land Rover, 8% Austin and 8% Morris. Some may be surprised at a rather low figure for Jaguar that currently represents just 4% below 6% for VW. The figures were gleaned from the DVLA for pre-1985 registered vehicles during December 2015.
Overview
The survey overall displays just how important the classic car industry is not only to those involved in the hobby but also to the general public, 8.3 million of which expressed an interest in historic vehicles regardless of whether they owned one or not.
Amongst the positivity of a growing industry and levels of ownership there were also some warnings for the future. The survey clearly indicates that the average age of classic car owners is rising across the board and the FBHVC reports in its findings that clubs in particular are finding it difficult to reach out to younger people. Perhaps symptomatic of such a boom in the industry and the rising values that go with that increased demands the FBHVC stop short of offering any advice except to say that "technology and the use of the internet" are ways to entice other age groups into the scene.
---