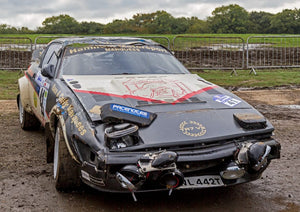 Crowdfunding scheme launched to save crashed Triumph TR7V8 rally car
After many successful years of historic rally action, the Jersey Rally this year ended in tragedy for the well – known and much loved Triumph TR7 V8 of Alastair Flack.
Alastair Flack and his co-driver Mick Starkey had been running well in the early stages of the Jersey Rally and despite some much more modern machinery, fought their way up to 12th position in class.
However, during the night stages, Alastair and Mick were navigating the notorious St Clements stage when the accident happened. The TR hit coolant and debris  left on the course by a previous competitor. It slid, hot the banking at high speed which broke the suspension before the car barrel rolled onto its roof.  The pair were lucky to escape un-hurt, but for sore necks in the morning – but sadly the car was not so lucky.
Alastair's TR has given passenger rides thousands of pounds for charity at events such as the TR International Weekend for the Air Ambulance and Cystic Fibrosis Trust and CAR-nival and Bruntingthorpe fundraisers.
Alastair says; "The roof is crushed and the car needs numerous body panels now as well as the entire shell re-strightened on a jig. We really need the help of our supporters to undertake the restoration and repair work now required so that the car may get out and entertain once again very soon."
Fans of the Triumph TR7 V8 will be able to see the vehicle at this year's NEC Classic Motor Show to inspect the damage themselves but crucially donate to have their signature or compnay logo added to the car to help preserve the car to compete in future seasons. All signatures and company logos will remain on the car for the foreseeable future, once the car has returned to competition. You will also be able to see where the car is competing and keep up to date with the latest rally results via the new Hamilton Classic website launching soon.
So, please show your support and help us get this legendary TR back to rallying – hopefully with your name on it!
Click here to donate to our crowdfunding scheme
BBC News covered the story here 
Re live the crash via the on-board camera footage:
---