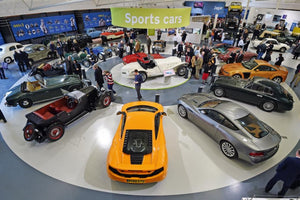 British Motor Museum reopens after its £5millon make over
The museum at Gaydon, Warwickshire has reopened after a huge rebuild costing in excess of £5m. The museum now has ambitions to be amongst the best motor museums in the world.
The former Heritage Motor Centre has been renamed the British Motor Museum and has opened with a new building and a range of interactive features thanks to Lottery Fund Support.
Included within those features are a new car centre, life-sized match box cars and Land Rovers mounted high on on plinths.
A total of £4m was spent on the Collections Centre, with a further £1.1m from the British Motor Industry Heritage Trust going towards transforming the museum, which includes new zones such as royal cars, motorsport and cars featured in film and television within its collection of 250 vehicles.
The museum now brings together the previously unseen collections from the British Motor Heritage Trust and Jaguar Heritage Trust.
Julie Tew, Managing Director at the British Motor Industry Heritage Trust said: "We are delighted to announce these exciting new changes which will significantly enhance our status and appeal. The Museum refurbishment and the new Collections Centre will enrich our visitors' experience and showcase our collections to their full potential. Not only will our prized collection of 300 historic British cars be far more accessible, but our Museum will give people the chance to learn more about the past, present and future of the British motor industry, its technology and its people."
---