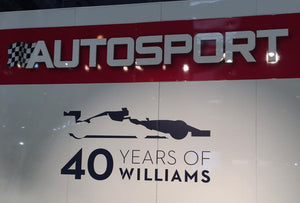 Autosport International 2017 Review
Autosport International lived up once again to its reputation as Europe's premier pre-season motorsport event with a roll call of global racing superstars, both past and present, appearing at the NEC.
An all-star cast of motorsport heroes was be lead by Jacques Villeneuve, the four-time IndyCar Series champion and three-time winner of the Indianapolis 500 with the show being opened by Dario Franchitti MBE.
There was also no shortage of F1 legends, with Martin Brundle, Johnny Herbert and Derek Warwick all appearing on the Autosport stage, while former F1 driver and three-time 24 Hours of Le Mans winner, Allan McNish, entertained attendees from the world of motorsport with his anecdotes on the FIA World Endurance Championship.
For BTCC fans, reigning Dunlop MSA British Touring Car Champion Gordon Shedden was joined by Championship winners Andrew Jordan, Matt Neal and Colin Turkington, also on the Autosport Stage. The four went head-to-head in the Live Action in a highly competitive time trial that brought the action to life within the show.
The live action later included a celebration of 50 years of Rallycross which saw 10 classic racers, including the Porsche 911R which won the first ever Rallycross race at Lydden Circuit in 1967 wow audiences alongside a selection of Group B icons such as the Audi Quattro.
This season also marks Williams' 40th anniversary and to commemorate this show visitors were treated to a heritage display including four decades of cars from Britain's most successful F1 team through the ages including a mockup of a fully operational modern pit garage.
Hamilton Classic was present in our usual location in the trade hall to discuss requirements for the season ahead with various teams and competitors. On display was our selection of high quality car covers for both indoor and outdoor applications. A full range of event shelters designed to keep the car, tools and indeed the rest of the team dry and sheltered at motorsport events in the year to come. What set us apart from many others what the vast range of pit equipment on offer, from inflatable start line arches to branded garage barriers and mats. It was great to meet and chat with such a vast range of teams from all levels of motorsport.
The highlight of the weekend however was a visit from Race2Recovery to the Hamilton Classic stand by Jason and Brendan. Race2Recovery are the first and only motorsport team of disabled military veterans to twice enter and complete the Dakar Rally, and to win a British rally with an all disabled pairing. Hamilton Classic has supported them by supplying branded event shelters for a number of years now.
A great start to the New Year, next stop the MG and Triumph Show followed by Race Retro both taking place at Stoneleigh Park in February.
---