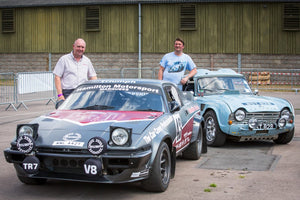 Alastair Flack from Hamilton Classic raises money for Devon Air Ambulance with rally rides
Alastair Flack from Hamilton Classics took the opportunity to show of this seasons new engine in the Hamilton Classic TR7V8 rally car by auctioning off passenger rides in the car in aid of the Devon Air Ambulance Trust.
The auctions took place as part of the TR Register car clubs International Weekend and began as a Friday evening charity auction, whipping those present at the clubs evening entertainment into a bidding war to win the chance of a high speed ride around the events Autosolo course.
The chance of a thrilling ride in the tyre smoking TR7V8 of Hamilton Classic was also offered to those who attended the events trade exhibition where members of the public purchased raffle tickets for £2 each for yet another chance of an adrenaline fuelled TR7V8 rally car experience.
When the auction closed and the raffle winners had been drawn, Hamilton Classics Alastair Flack joined Tony Sheach in his HERO LE Jog winning Triumph TR4 to quite frankly, scare the winners of the charity auction witless!
Screams of joy and terror in equal amounts confirmed that the winners had been suitably rewarded for their generosity towards the Devon Air Ambulance Trust in their purchase of raffle tickets and auction prizes
The combined total of the raffle and auction raised a fantastic £650 for the Devon Air Ambulance Trust.
---