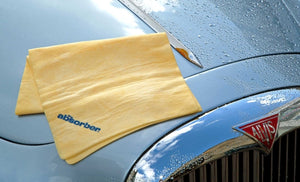 Absorber chamois available to buy now
With a tradition in the manufacture and racing of leading motor vehicles Britain is a car loving nation, and car enthusiasts across the country adore their classic cars, spending weekends on the drive tweaking and tuning, cleaning and polishing.
The Chamois leather, or 'shammy', is the staple tool of anyone interested in vehicle care and has evolved as a household name. The modern process for producing these items has changed dramatically over the centuries to produce what is today an essential valeting product.
The historically the word Chamois refers to the European Antelope, whose skin was used by eighteenth century glove makers in the South of France. By tanning the skin in cod oil they produced the quality of water absorption, which offered practical advantages for carriage footmen responsible for cleaning and polishing carriages. The footmen would use these soft white gloves as an innovative method of vehicle care. The arrival of mass produced glass later produced a huge demand for domestic 'chamois leather'.
Today the Absorber Miracle Chamois is the number one chamois in the USA, and car care specialists Hamilton Classic are pleased to be able to supply it throughout the UK. The Absorber Miracle Chamois, available at www.hamiltonclassic.co.uk, is capable of holding half a pint of water, representing a revolutionary new drying skin, not to mention an essential valeting product.
The Micro fibre material is ultra soft and absorbent for use on any vehicles or in the home making it a number one car care product. Hamilton Classic's Absorber Miracle Chamois is capable of amazing water absorption and offers a smear free drying finish for surfaces. With super soft fibers this is one chamois that is guaranteed not to scratch. It is available in six colours and is also machine washable, it is designed to be stored damp in its tube so it is ready for use at all times at home or away.
Developed for the marine industry the Absorber Miracle Chamois can be used on bikes and in the house, as well as being the perfect car care product for a treasured classic.
---