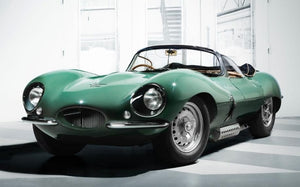 A new trend in classics? Continuation classics and resto-mods
Heritage remanufactures, continuation classics, resto-mods,replicas – call them what you will there seems to be something of a trend kicking off at the moment for classic car models being re-made from new.  Premium car brands, in an attempt to appeal to the wealthy customer riddled with nostalgia for the good old days when cars were more exclusive and glamorous, have begun creating iconic models from the 50s, 60s and 70s to buy now.
Jaguar Land Rover lead the way when they produced a limited run of lightweight E-Types. After announcing that Land Rover Defender production was to cease, Land Rover turned their attentions outside of the luxury SUV market to the creation and support of heritage vehicles, firstly by re-creating Series 1 Land Rovers. Jaguar countered by offering a modern factory version of the legendary XKSS. Most recently that same team of restomod fanatics within Jaguar Land Rover annnounced that they were to put a limited run of early Range Rover prototype's presumably as a precursor to relaunching the Range Rover's prototype name 'Velar' coming soon in their modern range of luxury SUVs.
The Range Rover Reborn was unveiled at this year's Salon Rétromobile in Paris, where it will be displayed alongside the XKSS and a privately-owned E-Type Coupe also  fully restored by the factory.
An 'initial run' of 10 cars will be restored by JLR Classic, with prices starting at £135,000. Every Rangey rebirth will be restored to original Seventies factory spec, using proper parts. And going by these photos, the craftsmanship on offer might make these things a bit of a bargain.
Fifty years after Alvis stopped making cars, the company is back! Unlike some marque revivals, The Alvis Car Company isn't simply attaching the famous 'Red Triangle' badge to the front of a modern supercar but instead is recreating genuine supercars from an earlier age.
Among the Alvis cars on offer is a 1966 Graber-bodied TF21, made in the company's penultimate year, and a wonderful 4.3 drophead coupé with Lancefield coachwork from 1937 and Alvis is offering hand-built facsimiles of both as part of a limited run of Continuation Models.
The Graber and Lancefield cars can be seen and heard in action as they will be taking part in one of the show's major displays, The Perfect Ten. Sixty of the world's greatest classic cars in ten categories – saloon, coupé, convertible, sports car, supercar, hatchback, shooting break, sports racer, streamliner and single-seater – will be paraded along The Grand Avenue, an automotive catwalk that runs through the centre of the show.
Another original that's also now available as an Alvis Continuation Model, the head-turning Bertelli-bodied 4.3-litre Sports Coupé from 1935.
A fourth Alvis, a unique Brooklands racer known as the Powys-Lybbe Special after its original creator, amateur racer Antony Powys-Lybbe, will be a further of The Perfect Ten entrants. Based on a 1931 Alvis 12/60 'Beetleback', it had been given a lighter and narrower body and ran at over 90mph on the outer Brooklands circuit.
Richard Joyce, managing director of The Alvis Car Company, said: "Our Continuation Cars are as close to the originals as we can get. We have had to make some modifications to ensure they comply with current Individual Vehicle Approval regulations but essentially the idea is to give owners the same supercar driving experience that owners had when the cars were new. And when you bear in mind that the 4.3 Tourer had a 0-60mph time of 11.3 seconds back in 1938, there's no denying these were the supercars of their day."
Finally Aston Martin recently joined the restomod / continuation classics party when they announced to a stunned motor industry that they were to revive the legendary 50s model, the DB4. The clunky named "Aston Martin DB4 Continuation" is, as so many of these vehicles are, aimed squarely at the millionaire market.
Each new car, when launched in late 2017, will use original parts, including the tubular frame, lightweight aluminium panels, limited-slip diff, four-speed manual and DOHC straight six with two spark plugs per cylinder but with modern revisions that remain true to the original feel. But what about exclusivity if you own a genuine original, we hear you cry? Well Aston Martin's answer to preserve the exclusivity of the original GTs, is that the modern versions won't be road-registrable but for track use only! Don't expect an invite to Goodwood to race though, Lord March still views these as – ahem, well replicas. There , I said it.
Owners of the DB4 GT Continuation will get instruction from Le Mans winner Darren Turner, among others, on how to exploit the kind-of-50-year-old car to its limits, and "master driving techniques from an era when track driving was an artform" just don't bend it!
---